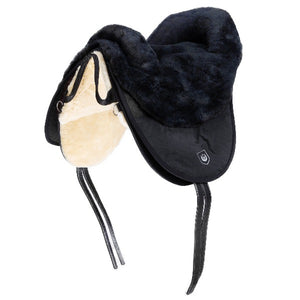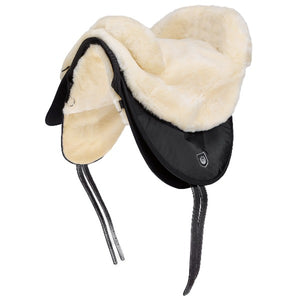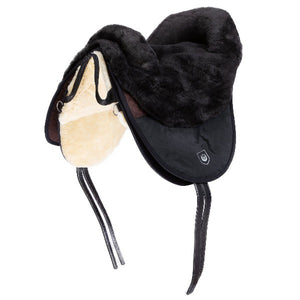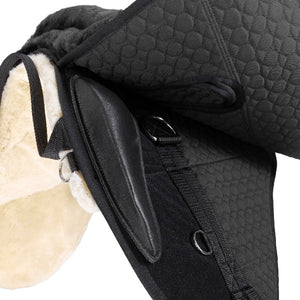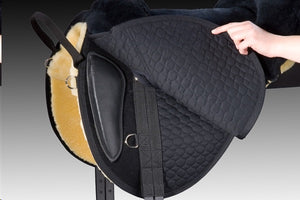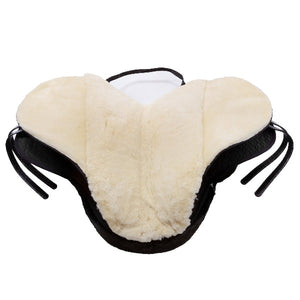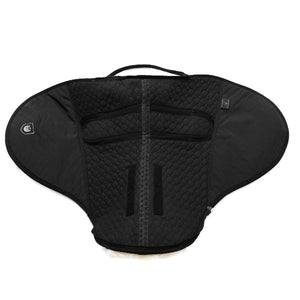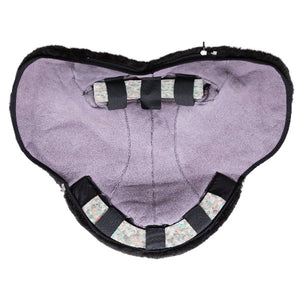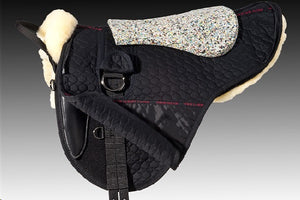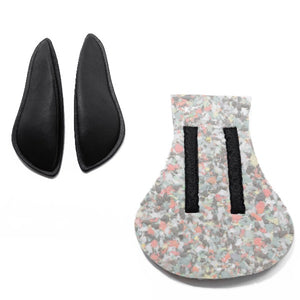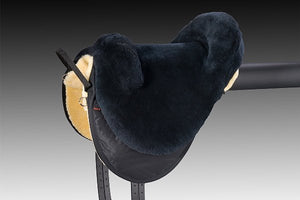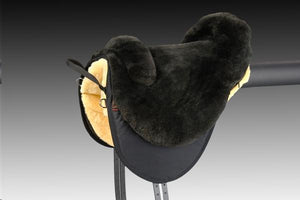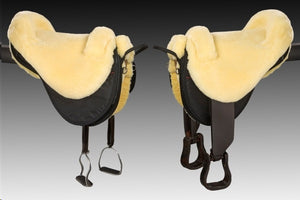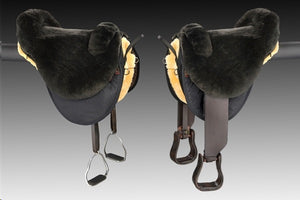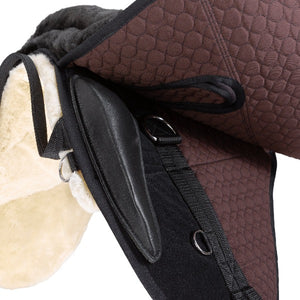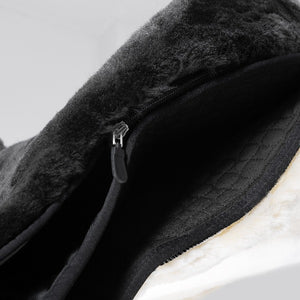 UK Free delivery within 48h Mon-Fri
Christ Lammfelle Cloud Special Bareback pad 

Total comfort whilst maximising the harmony between you and your horse.

Super soft and comfortable riding experience, allowing your horse full freedom of movement with no pressure points. 
Anatomically shaped for the horse
Fully lined with natural (undyed) lambskin; 30mm under the seat area and 15mm on the panels.
Shaped sheepskin seat for the rider
Foam pommel and large foam half moon cantle giving support to the rider
Adjustable knee blocks with strong velcro attachment
Adjustable foam 'hip saver' for the rider (narrows the twist)
Removable composite foam shims either side of the spinal canal
Strong quilted cotton panels and saddle flap with nylon lower panel to avoid chafing and wear.
Leather girth straps with nylon core
Used with a dressage girth
Can be used with safety stirrups - strong stainless steel D ring for stirrup attachment
D rings are positioned on the pad for use of a breast plate and training aids if required
Strong loop at the front of pad to aid balance if required and great for carrying the pad
For heavier riders, riders riding for long periods of time, or if using stirrups, we would recommend a shimmed saddle pad under the bareback pad. 
Half lined Matching sheepskin saddle pad or Fully lined matching sheepskin saddle pad.
Shims for both saddle pads
Sizing - As a rough guide:
Pony size pad is suited to children and small adults up to approx UK jeans size 10 (incl.) 
Full size pad is suited to adults jeans size 10 and above.
Ideally a pony will wear pony size and a horse will wear full size, but a horse can comfortably use a pony size pad and a larger pony, depending on build, can wear a full size. 

More information on Bareback pads including pad measurements:
https://www.horsedream.co.uk/blogs/news/horse-dream-bareback-riding-pads

Youtube videos of these pads being ridden on. Gives a better idea of what these pads feel like to ride on when you see then in action:
https://www.horsedream.co.uk/blogs/news/christ-lammfelle-bareback-riding-pads-videos-from-youtube
Colours available
Natural (natural undyed lambskin top and bottom with black panels. Natural lambskin shades can vary from pale cream to rich honey)
Charcoal (Dark charcoal lambskin upper, natural underside with black panels)
Brown (Very dark brown lambskin upper, natural underside with light brown panels)
Cleaning
Bareback pads can be machine washed and tumble dried at low temperatures (max 30 degrees) with C7 sheepskin detergent which has been specially formulated for these products. C7 detergent will protect and prolong the life of the sheepskin, keeping it soft and supple and looking like new.
Washing and Care products
Cleaning and Care instructions
endurance-saddle-pad-half-lined,copy-of-saddlepad-for-the-cloud-special-bareback-pads-fully-lined,sheepskin-dressage-girth-contoured-1,barefoot-dressage-girth-stretch-breath,drytex-stirrup-leathers-for-bareback-pads
People who bought this product, also bought