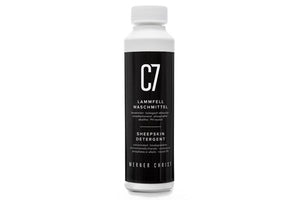 C7 Sheepskin/lambskin detergent for the care of all our sheepskin products.

Washing with a sheepskin detergent will not only clean your item, and help preserve the colour, but will also condition and nourish the hide, keeping it soft and supple.
Concentrated
Biodegradable
Environmentally-Friendly
Contains No Phosphates & Alkalis
Neutral pH 
Bottle size: 250ml or 500ml (use approx 30ml per wash, 50ml for very dirty heavier items)
All our Sheepskin Products can be machine washed with a sheepskin detergent, and tumble dried at low temperatures. Maximum temperature 30 degrees.
Christ Lammfelle have developed their own lambskin detergent C7 to preserve the softness of the sensitive fibres and helps to protect their colour. The C7 cleaning agent is environmentally friendly, alkali- and phosphate-free, and biodegradable.
Care
To cut down on the need to wash, use the sheepskin brush in between washes to keep the fleece fluffy and clean. Wait until mud/sweat/dirt are dry and then just brush off.
You can also sponge off the panels.
Washing instructions
Washing machine: Just add approx 30ml of sheepskin detergent to the powder tray of your washing machine and set on a cool wash. Maximum temperature 30 degrees.
Hand wash in warm water with 30ml sheepskin detergent added to the water.
Tumble dry on low setting (max 30 degrees) 
Hand Dry: If you do not wish to tumble dry your sheepskin product, lay it out flat, to dry, sheepskin side up and stretch out a few times during the drying process. Do not dry with a hair drier or leave in the sunshine to dry.
Please Note If your product has foam parts - shims, or in the bareback pads, cantle/ knee blocks/ pommels etc, please remove them before washing.

Once dry, brush the sheepskin with the sheepskin brush to tease the fibres apart, leaving the fleece soft and springy again and looking like new. 

C7 Sheepskin detergent has been specially formulated for sheepskin; It will clean and condition the sheepskin, keeping the leather supple and the fleece soft and springy. 

Always use a sheepskin detergent and never a domestic washing powder or bleaching agent. The enzymes in biological liquids break the wool protein down, powders can remain in the wool causing irritation and bleaching agents can react with your horse's skin

lambskin-brush
People who bought this product, also bought