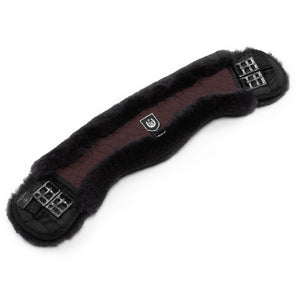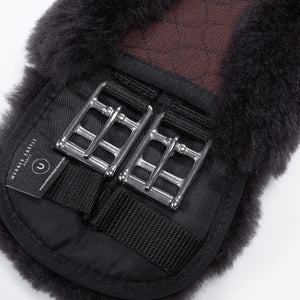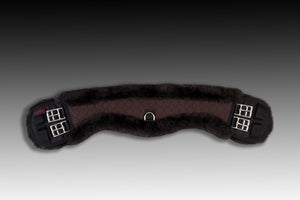 Half Moon/Banana shaped lambskin Dressage girth.

Anatomically shaped to follow the curve of the belly. Follows the natural contours of the horse keeping an even surface in contact with the horse offering maximum comfort and helping prevent pressure points.
Fully lined with 100% Merino lambskin. Brown half moon shaped girth with dark brown lambskin.
Girth material is strong cotton twill, allowing excellent breath-ability, with nylon anti chafing at buckle ends. Girth strap ends tuck into keepers. 
This girth is not elasticated, ensuring the curved sections stay in exactly the right position behind the elbow. 
Great for sensitive horses, horses with large movement and horses prone to rubbing and girth galls. Horses with a forward girth groove and rounder belly line.
The lambskin lining is rolled over the edges to distribute pressure and stop chaffing. The roller buckles are made of stainless steel. 
Central stainless D ring for martingale if required. 

All Horse Dream sheepskin products can be machine washed and tumble dried at low temperatures (max 30 degrees) with C7 lambskin detergent.
C7 detergent will protect and prolong the life of the sheepskin, keeping it soft and supple and looking like new.
Washing and Care products
Cleaning and Care instructions
People who bought this product, also bought